Endorsements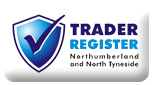 Here are a selection of reviews that we have acquired from our customers anonymously on the Northumberland Trader Register. You can view our 5* ratings and other comments by having a look at the Trader Register here.
Reviewed 22-Oct-2015
Very good service, great result. Thank you!
Reviewed 29-Sep-2015
Would certainly recommend this Company !!!
Reviewed 13-Sep-2015
John and Andy plastered our large extension. They were very professional and turned a shell into a beautiful room. Would not hesitate to recommend them to family and friends. We are so pleased with their work, we have asked them to come back to do some additional work for us.
Reviewed 28-Aug-2015
John is thoroughly professional, efficient and very personable. I would have no hesitation in recommending his services.
Reviewed 10-Aug-2015
John and Andy, did a first class job of re-boarding and skimming my lounge ceiling. They also removed a dado rail and re-plastered as necessary. The finish achieved exceeded my expectations by a considerable margin. I was also very happy with the price. Punctual, hard-working, polite and tidy. A worthy 5 stars.
Reviewed 08-Jun-2015
If you want a top class job this is where to move forward, you will not be dissappointed with the proffesionalism of the team. Thanks guys from a very happy customer.
Reviewed 23-May-2015
John arrived to start on time and just got on with the work efficiently, while keeping me updated Cleaning up afterwards. charged as per estimate.I will definitely be using John again.
Reviewed 18-May-2015
Would not have any hesitation in recommending Artisan Plastering for quality and cleanliness of his work.
Reviewed 07-May-2015
Excellent all round job/service from this trader & would certainly use them again.
Reviewed 02-Apr-2015
Very professional, friendly, put protective sheeting down before work started and tidied up before leaving.
Reviewed 12-Mar-2015
Very good at his work, quick and clean. Would use again in the future. 10/10.
Reviewed 20-Feb-2015
I have used Artisan Plastering on a few occasions now. All the work I have had carried out by John have been well priced, on time, professional and he always leaves the site clean and tidy. I would highly recommend his services.
Reviewed 14-Jan-2015
Professional job, very punctual, clean, tidy and perfect finish. Highly recommended.
Reviewed 12-Dec-2014
Would recommend Artisan Plastering as a very reliable, professional company who carry out their work very diligently and clean up after they have finished
Reviewed 09-Dec-2014
This is the second time we have used John to re-skim ceilings in our house. We are really pleased with the quality of the finish, as before. John and his team are friendly, punctual, they clean up after the job and reasonably priced. I wouldn't hesitate to recommend Artisan Plastering.
Reviewed 02-Dec-2014
Very punctual and did an excellent job. Pleasant and polite workers.
Reviewed 02-Sep-2014
Would definitley reccommend and use again. Thanks for your high standard of work at short notice.
Reviewed 29-Aug-2014
Very friendly and respectful of our home. Used dust sheets and mixed plaster outside. Workmanship was excellent and will definitely use again.
Reviewed 15-Aug-2014
Fantastic work, very high quality. Excellent customer service. Would highly recommend.
Reviewed 24-Jul-2014
First class, class job. Worked quick and tidy. Read to decorate in 3 days.
Reviewed 03-Jul-2014
Always there on time , and very little mess .
Reviewed 02-Jul-2014
John was excellent always on time and very helpfull and friendly even when the job threw up unforseen problems and I would have no hesitation in recommending him to anyone , Good Worker